Shopping for holiday gifts is going to be more challenging than ever this year, and it's never easy. With retail outlets more difficult to access and online shopping creating a strain on mail capacity, you'd be well-served to get a jump on things. But who has had time to give some serious thought to what to give? As always, I'm here to recommend books. Books are easy to buy, easy to wrap, and easy to love. Best of all, the books I'm going to recommend are published in Saskatchewan, and almost all by Saskatchewan authors, so purchasing them helps support your local economy.
SaskBooks can help you get all these books, but if you're in Regina or Saskatoon and would like to save a few dollars on shipping, consider patronizing local indie bookstores like The Penny University and McNally Robinson. These places will be happy to assist you in a friendly and safe manner, to help you get just the right gift.
Sleeping Brilliant by Jessica Williams, published by All Write Here Publishing ($16.99, ISBN 9781999539771) – Children's
Sleeping Brilliant, written and illustrated by Swift Current's Jessica Williams,  tells a familiar story in a new way. This fun book teaches children that their minds matter, and encourages them to find joy in science, technology, engineering and mathematics. Charming illustrations help make this one a hit.
Griffin's Cure by J.C. Paulson, published by Joanne Paulson ($20.00, ISBN 9780995975668) – Fiction/Mystery
Griffin's Cure, the fourth book in the Adam and Grace series by Saskatoon journalist J.C. Paulson, is a tale of science, medicine, and murder, and continues the romance between Adam Davis and Grace Rempling that readers have come to love. Griffin's Cure is a great book for your favourite mystery fan or romance fan, and if you know someone who loves both, you won't find a better recommendation.
Tunnels of Time by Mary Harelkin Bishop, published by DriverWorks Ink ($15.95, ISBN 9781927570579) – Juvenile
One of the most popular juvenile books in Saskatchewan is back! Tunnels of Time by Mary Harelkin Bishop is the story of Andrea, who travels back in time to the 1920s, where she encounters Al Capone and his bootlegging operation in Moose Jaw. Give the gift of history with this action-packed and educational juvenile novel.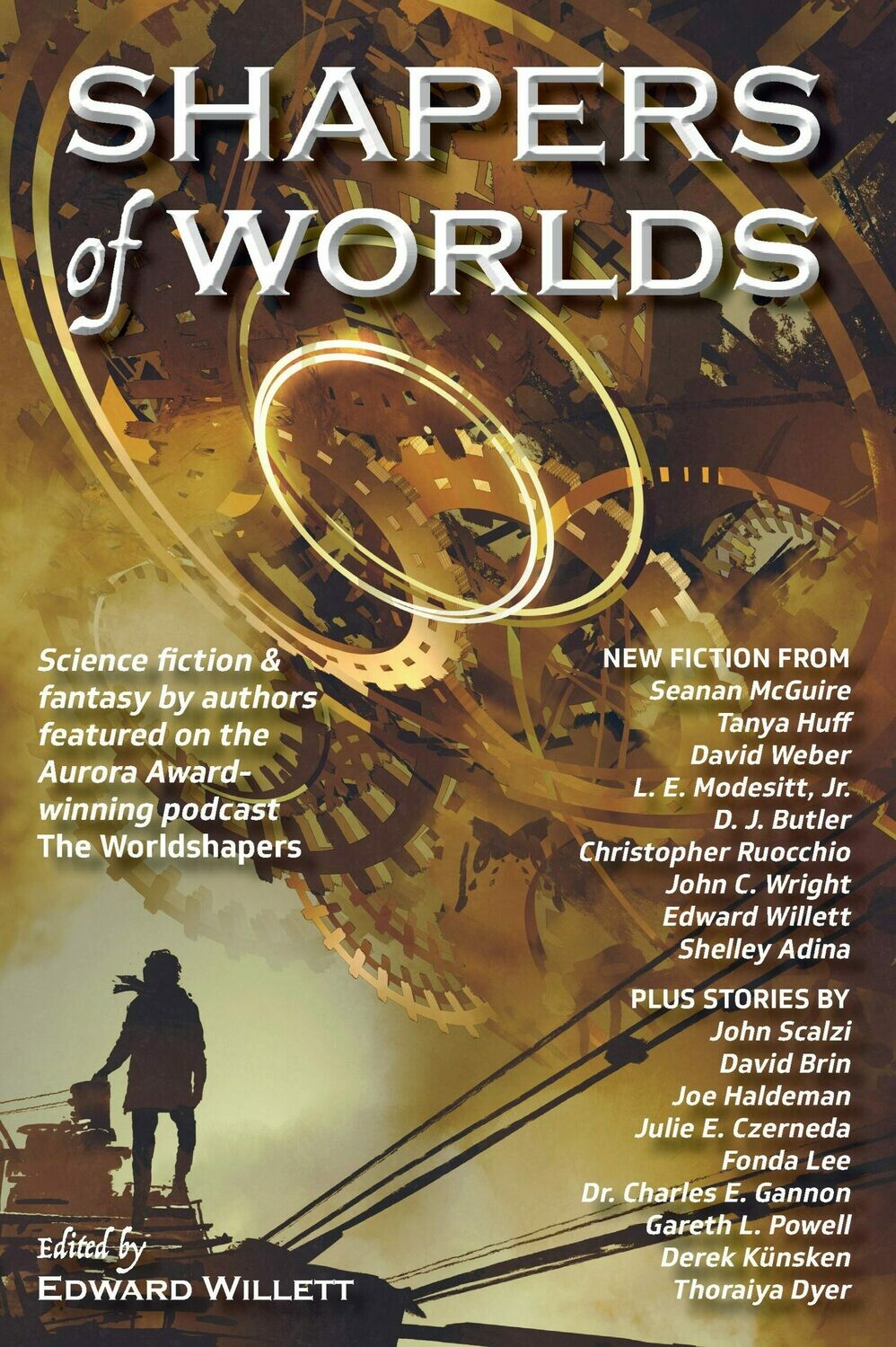 Shapers of Worlds, edited by Edward Willett, published by Shadowpaw Press ($22.95, ISBN 9781989398067) – Fiction/Science Fiction
If you know a science fiction or fantasy fan, chances are very good that at least one of their favourite authors has a piece in the incredible Shapers of Worlds anthology. Edited by (and including work from) Regina's own Edward Willett, Shapers of Worlds includes writing by guests of the podcast of the same name, including such SFF heavy-hitters like John Scalzi, Seanan McGuire, and Fonda Lee. A must have.
Power Plays by Maureen Ulrich, published by Wood Dragon Books – Young Adult
Another popular series makes its return in 2020. Maureen Ulrich brings you the story of Jessie McIntyre (Jessie Mac to her teammates). New to Estevan Junior High, Jessie finds belonging by joining the hockey team, but Jessie still has to face all the problems young people do, including fitting in while dealing with bullying. Power Plays features a relatable protagonist and pulse-pounding sports action, making it the perfect book for the young hockey fan.
A Radiant Life by Merle Massie, published by University of Regina Press ($35.95, ISBN 9780889777330) – Non-fiction/Biography
In A Radiant Life, Merle Massie brings you the story of one of Saskatchewan's most fascinating citizens, The Honourable Sylvia Fedoruk. Sylvia Fedoruk was a notable athlete, a celebrated scientist, and Saskatchewan's first woman Lieutenant Governor, and Massie tells her incredible story with wit, warmth and charm that suits her subject. This is the book for your history buff.
Strange Labour by Robert Penner, published by Radiant Press ($22.00, ISBN 9781989274354) – Fiction
Get the book named one of Publishers Weekly's Top Books of 2020. Aptly named, Strange Labour by Robert Penner presents a new vision of the post-apocalypse, where neurotypical adults are called to create mysterious monuments and only the neurodiverse are spared, forming new communities in this changed world. Strange Labour is the perfect book for those who love thought-provoking fiction.
Scenic Bridges by Fritz Stehwein and Barbara Stehwien, published by Landscape Art Publishing ($29.95, ISBN 9780991964987) – Non-fiction/Art
Landscape Art Publishing's Scenic Bridges is a collection of pieces by world-renowned artist Fritz Stehwein, all of which feature the architectural majesty of bridges from across the globe. This beautiful book, as much a work of art as the artwork it contains, looks great on a coffee table, and you'll recognize a lot of familiar Saskatoon bridges while learning about more. Scenic Bridges is sure to be a conversation starter.
Saskatchewan's Best Scenic Drives by Robin and Arlene Karpan, published by Parkland Publishing ($24.95, ISBN 9780995087514) – Non-fiction/Travel
Travel might be trickier than ever at the moment, but you can still enjoy the beauty of our province from the safety of your car, and Saskatchewan's Best Scenic Drives by Robin and Arlene Karpan is the perfect guide to do that. With almost 30 routes, including maps and GPS coordinates, as well as helpful and beautiful full-colour photographers, Best Scenic Drives will make the province your oyster. If you know someone who is itching to travel or someone who loves to drive, this is the book they need.
Seasons of Plenty by Doreen Bleich ($25.00, ISBN 9780973116717) – Non-fiction/Cookbook
Seasons of Plenty by Nipawin's Doreen Bleich is the gift that keeps on giving. Not only could you open it up and whip together a delicious winter-holidays dish likely with items you already have in your home, but you'll find excellent recipes for observances throughout the year, including Hallowe'en, Easter, and St. Patrick's Day, all simply presented and using unpretentious ingredients. This coil-bound cookbook is as easy to use as it is to gift to anyone who loves food.
Conspiracy by Ruth Chorney, published by 7 Springs Books ($20.00, ISBN 9780993975776) – Fiction
SaskBooks reviewer Shelley Leedahl calls Conspiracy a "page-turner" and praises author Ruth Chorney's "clear reverence for the prairie and farm living [and[ the interesting dynamics between the multi-generational characters" in a story that "rings true." Find out why by reading it yourself, or consider gifting it to anyone who would love a story of an unlikely friendship and modern farming in Saskatchewan.
Getting to Know Saskatchewan Lichens by Bernard De Vries, published by Nature Saskatchewan ($19.95, ISBN 9780921104261) – Non-fiction/Nature
Did you know that lichens are a composite organism consisting of a fungus and usually an algae? You would, if you had read Getting to Know Saskatchewan Lichens by Bernard De Vries, and if you already did, then you'll get even more out of this fascinating book. Rugged in design and including stunning full colour images to aid in identification, this book is the quintessential field guide to the surprisingly fascinating world of lichens, and the perfect gift for naturalists or hikers.
Raft Baby by Bonnie Dunlop, published by Thistledown Press ($20.00, ISBN 9781771872027) – Fiction
Based on the true story of a baby found floating on a raft on the Peace River in the early 1900s, Bonnie Dunlop's Raft Baby is an imaginative piece of historical fiction that isn't afraid to play with form, incorporating multiple narrators and interwoven stories. Raft Baby is perfect for the lover of literary fiction, and would make a great book club book to boot.
Time to Fly! by Valerie Wiebe, published by Your Nickel's Worth Press – Children's
It's traditional to give someone celebrating a major milestone like a high school graduation a famous book by a famous author who writes nonsense rhymes about the places they'll go. If you're interested in inspiring someone with a book that comes from a little closer to home, Time to Fly!, written and illustrated by Langham's Valerie Wiebe, might fit the bill. The breathtaking illustrations in this uplifting book make it a marvel to look at.
Métis Camp Circle by Leah Marie Dorion, published by Gabriel Dumont Institute Press ($15.00, ISBN 9781926795959) – Children's
Give the gift of tradition this holiday season. Leah Marie Dorion, one of the provinces most notable artists, wrote and illustrated this striking children's book that tells the history of Saskatchewan's Métis people in an accessible way. An included CD provides narration in both English by Leah and in Michif by Métis Language Keeper Norman Fleury makes this a very unique gift.
No-Badge Killick by Gord Hunter, published by Monkey's Fist Publishing ($20.00, ISBN 9780968180310) – Non-fiction/Memoir
Do you want an inside look into Canada's Navy in the 1960s and 70s? What about an inside look into a submarine? Regina's Gord Hunter provides an illuminating glimpse of Canada's Navy during the Cold War in No-Badge Killick, a no-holds-barred memoir. If you know someone who's prone to falling asleep in front of Ken Burns documentaries, slip this book into their hands.