The crunch is on. You've got just over two weeks to get something for everyone on your list; your boss, the kids' hockey coach, the mail carrier, the dinner party host. And that's to say nothing of the friends and family you still have to shop for. Fortunately, SaskBooks is here to remind you again that books make the best gifts: they don't make any noise, you don't have to clean up after them, they won't spoil if they slide under your car seat, and they're easy to wrap. Best of all, when it comes to books, there's something for everyone. In fact, the biggest problem with books is that there are so many to choose from!
That's where we come in. SaskBooks has prepared a gift guide of some excellent Saskatchewan-published books, all of which are bestsellers. That means you can purchase them with confidence, knowing all the others who bought these books can't be wrong.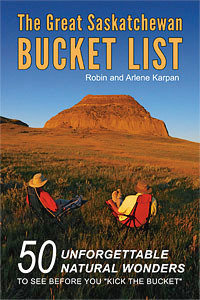 The Great Saskatchewan Bucket List
By Robin and Arlene Karpan
ISBN 9780980941937 $19.95
Published by Parkland Publishing
For the sixth year in a row, The Great Saskatchewan Bucket List tops the SaskBooks bestseller list, and it's easy to see why. For anyone who already loves this province or anyone who wants to know it better, The Great Saskatchewan Bucket List includes must do activities and sights that range from the easy to the challenging, making it perfect for novices and experienced adventurers alike. It's also fine to just keep it on your shelf and enjoy the beautiful full-colour photographs – we won't tell anyone.

Count Them! 50 Tractor Troubles: A Counting, Spelling, and Safety Book
By Melanie Larson
ISBN 9781775321804 $13.99
Published by M Larson Books
Oops! This fun little picture book presents 50 photos of things going not-quite-right with farm equipment – like a tractor up to its axles in mud, or a tractor in a tree?! Each image is accompanied by words and numbers, helping this book pull double-duty in assisting little ones with learning their numbers and letters. Head-scratching and side-splitting images make Count Them! 50 Tractor Troubles the perfect book for those who don't normally reach for books – big or small.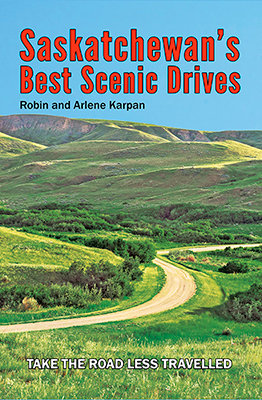 Saskatchewan's Best Scenic Drives
By Robin and Arlene Karpan
ISBN 9780995087514 $24.95
Published by Parkland Publishing
Did you know that Saskatchewan has more roads than any other province in Canada? Embrace the road with Saskatchewan's Best Scenic Drives. Like the popular The Great Saskatchewan Bucket List, Saskatchewan's Best Scenic Drives is a great book for anyone who wants to see all that this province has to offer, but is especially appropriate for those who prefer to do that in a comfy-seat with heating or cooling and a cup holder.

Birds of Saskatchewan
By Alan R. Smith, C. Stuart Houston, and Roy J. Frank
ISBN 9780921104346 $79.95
Published by Nature Saskatchewan
Do you know someone who likes birds? Well Birds of Saskatchewan has every bird in Saskatchewan – not just every species or type of bird, but literally every bird. Okay, maybe not, but it's a big book with all the info on every type of bird you will find in the province, from the American Avocet to the Common Yellowthroat and everything else in between. This weighty tome was ten years in the making, and it shows!

The Homesteaders
By Sandra Rollings-Magnusson
ISBN 9780889775152 $39.95
Published by University of Regina Press
The Homesteaders is a valuable text that tells the story of some of the first settlers to Saskatchewan, in their own words, through letters, diaries, and interviews. This exhaustive account of life on the Prairies – with details on everything from food to lodging to medicine to celebrations, and including 170 archival black and white photos – is a must-have for anyone who is interested in history.

When We Had Sled Dogs: A Story from the Trapline – ācimowin ohci wanihikīskanāhkBy Ida Tremblay and Miriam Körner
ISBN 9781988783390 $19.99
Published by Your Nickel's Worth Publishing
A gorgeously illustrated children's book in English and Cree, When We Had Sled Dogs recounts Ida Tremblay's days of living the seasonal cycle of the trap line – from summer at the fishing camp (with a stop at Dog Island to collect the sled dogs on the way), to winter preparations in the fall, and winter on the trapline. This Moonbeam Children's Book Awards Silver Medalist is perfect for dog lovers and anyone who wants to cherish a traditional way of life.

Touched by Eternity
By Susan Harris
ISBN 9780994986948 $19.99
Published by White Lily Press
Susan Harris doesn't just believe in Heaven – she has seen it, not just once, but three times. Touched by Eternity is Harris's incredible true story of near-death experiences, miraculous healing, and visions of Heaven that will bring comfort to believers and give skeptics something to think about.

My Dearest Dido
By Marion Mutala
ISBN 9781989078204 $19.99
Published by Wood Dragon Books
Holodomor is a Ukrainian word that means "to kill by starvation". In 1932 and 1933, the policies of Joseph Stalin led to mass starvation resulting in genocide in Ukraine. My Dearest Dido by Marion Mutala recounts the story of the Holodomor through letters between Hanka and her Dido (grandfather) Bodhan. The letters are fictionalized, but the Holodomor was all too real. This is a book for anyone who wants to know more about Ukrainian history.

Métis Christmas Mittens
By Leah Marie Dorion
ISBN 9781926795799 $15.00
Published by Gabriel Dumont Institute Press
Artist and author Leah Marie Dorion brings you her signature and striking painting style in her multiple-award winning children's book, Métis Christmas Mittens. Although the story details the traditional Métis custom of giving practical, hand-made gifts for Christmas, it resonates with anyone who knows Christmas is about spending time with those you care about and showing love, rather than spending money.

Cooking Country Style
By Doreen Bleich
ISBN 9780973116731 $20.00
Published by Doreen Bleich
Fancy food is all well and good, but sometimes you need a recipe that uses ingredients that you already have on hand and are suitable for a wide-range of palates. Enter Cooking Country Style. In this spiral-bound cookbook, author Doreen Bleich provides crowd pleasing recipes that are as easy as they are delicious. This book is just right for someone who loves to cook, but is also great for someone who might need some help enhancing their skills in the kitchen.

Wapikwaniy: A Beginner's Guide to Métis Floral Beadwork
By Gregory Scofield and Amy Briley
ISBN 9781926798058 $25.00
Published by Gabriel Dumont Institute Press
You've probably seen beautiful Métis style floral beadwork, and perhaps you've wondered how it was done. Or perhaps you know exactly how it's done, and have been scared away by how painstaking and challenging it is. Gregory Scofield and Amy Briley are here to show you that Métis beadwork can be for everyone, with clear, simple instructions and an included DVD with examples. Give Wapikwaniy to someone who loves making beautiful things with their hands.

One Lucky Devil: The First World War Memoirs of Sampson J. Goodfellow
By Sampson J. Goodfellow
ISBN 9781999382766 $19.95
Published by Shadowpaw Press
With airplane crashes, daring close calls, and enough astonishing details to beggar belief, One Lucky Devil proves the axiom that truth is stranger than fiction. Edited by Edward Willett, Sampson details his incredible experience during the First World War, and the book includes more than 50 black and white photographs. This book should not be missed by anyone who is interested in military history or adventure.

Fun on the Farm/Fun on the Farm Too
By Deana J. Driver and Contributors
ISBN 9781927570302/9780927570371 $17.95/$15.95
Published by DriverWorks Ink
Life on the farm is a lot of work, but what is life without a good laugh? Fun on the Farm and Fun on the Farm Too shows us how people who live and work on farms know how to laugh, with rib-tickling stories of the fun and foibles of life on the farm from contributors across the province. Because Fun on the Farm was such a hit, DriverWorks Ink produced Fun on the Farm Too, for twice the hilarity. Here are books for anyone with a great sense of humour.

The Mealtime Monster
By Jessica Williams, illustrated by Daria Lavrova
ISBN 9781775345602 $11.99
Published by All Write Here Publishing
When Iris Rose wishes she didn't have to eat her vegetables, her wish comes true in a monstrous way. Although Iris's new purple friend is more cute than scary, she comes to learn that having a monster eat your vegetables for your is not the best way to live. Rhyming prose and colourful illustrations make The Mealtime Monster a fun read along book that helps to teach the importance of healthy eating.

Up From Garlic Flats
By Victor Cicansky
ISBN 9781989274149 $20.00
Published by Radiant Press
You've seen the art, now get to know the artist. Famed sculptor Victor Cicansky recounts his life and his work in Up From Garlic Flats by Radiant Press. Follow Cicansky from his humble upbringing in Regina to a world-class ceramic artist. Up From Garlic Flats marries Cicansky's artistic practice with his love of gardening, which makes it an excellent gift for someone who loves art or someone who loves gardening, or ideally, someone who loves both.

The Cypress Hills Massacre
By Robert Clipperton
ISBN 9780969142096 $35.00
Published by Saskatchewan Archaeological Society
It was an event that is rightly called a massacre, and it lead directly to the formation of the Royal Canadian Mounted Police. Why then is so little known about the Cypress Hills Massacre? Robert Clipperton set out to rectify that, and more than succeeded. The research in The Cypress Hills Massacre is based around archaeological investigation of the massacre site, but also includes archival information and interviews with family members of survivors, making it a comprehensive look at this dreadful event. Clipperton's work is for anyone who is more than a history buff, but a history connoisseur.

Life Lessons from a Red Serge
By Linda Garvey and Barb Porter
ISBN 9781775353607 $15.95
Published by McKenzie Carver & Associates
Staff Sergeant Garvey, RCMP, was a good man who is sadly no longer with us. His legacy lives on in part, however, in Life Lessons from a Red Serge. These lessons were intended for Garvey's grandchildren, but anyone can benefit from his warmth, wisdom and humility. This is an uplifting book for anyone who loves to see the best in everybody and be the best they can be too. Proceeds from the sale of this book are donated to the Search and Rescue Saskatchewan Association of Volunteers (SARSAV).

Growing Fruit in Northern Gardens
By Sara Williams
ISBN 9781550509137 $39.95
Published by Coteau Books
You might not be able to grow pineapple in Saskatchewan, but the province's climate is unique to some wonderful fruit that can't be found anywhere else, and cold weather can help some fruit become even sweeter! With information on both general challenges and specific fruit, as well as lots of colourful images, Growing Fruit in Northern Gardens by the incomparable Sara Williams is for anybody who likes to get down in the dirt.

Buried
By Ruth Chorney
ISBN 9780993975745 $20.00
Published by 7 Springs Press
Tera Jones McAllen has been accused of killing her husband, but she maintains her innocence. This is the perfect novel for anyone who would love to sink into a gripping read of love, betrayal, and murder in rural Saskatchewan. Buried was named a finalist in the High Plains Awards Woman Writer category – here's your chance to see why.