La Trahison (3e Edition)
00001666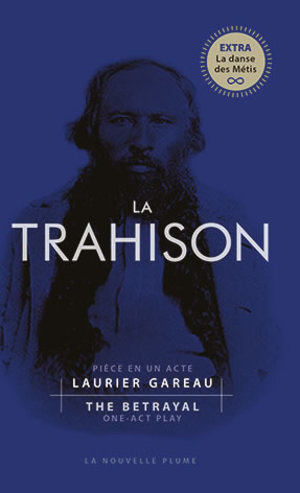 La trahison est un entretien passionné entre Gabriel Dumont et le vieux curé de Batoche, le père Julien Moulin. Nous sommes en 1905 et le vieux Métis veut être enterré avec les siens dans le cimetière de Batoche, mais il n'a pas remis les pieds dans une église depuis la fin de la Résistance.

La danse des Métis est un one-woman show créé come piece d'accompagnement a La Trahison. Une jeune interprète métisse au Parc historique national de Batoche déplore le fait que les visiteurs veulent seulement connaitre l'histoire de la fameuse bataille de 1885 et ne se préoccupent aucunement de la culture du peuple métis qui était la en 1885.

The Betrayal is an impassioned meeting between Gabriel Dumont and the old priest of Batoche, Father Julien Moulin. The year is 1905 and the old buffalo hunter wishes to be buried with his friends in the cemetery in Batoche. But he hasn't been back to church since the end of the resistance. The play is a powerful plea where Father Moulin must examine the role played by the Catholic Church in the defeat of the Métis at Batoche in May 1885.

The Metis dance is a one-woman show written as a companion piece to The Betrayal. A young Métis tour guide at Batoche National Historic Park laments the fact that visitors to Batoche are only interested in the famous battle of 1885 and don't really care about the life and culture of the Métis who lived there in 1885.
By (author):Laurier Gareau
ISBN:9782924237335
Publisher:Les Editions de la nouvelle plume
Date:2018