la Trahison: piece en un acte - The Betrayal, a one-act play
00000256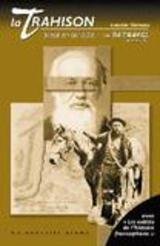 La trahison / The Betrayal is a one-act play revealing the opposition of members of the clergy to the M?tis cause during the Batoche Rebellion. Set in 1905 and the old M?tis, Gabriel Dumont, is asking for permission to be buried in the Batoche cemetery with his people. We witness Gabriel Dumont?s plea with Father Moulin that the Church re-examine the Church?s position. This 2nd revised edition includes the translation of the play and an essay in French by Maurice Morin entitled Les oubli?s de l?histoire francophone. The author, Laurier Gareau, was recently made a member of the Margaret Woodward Theatre Hall of Fame.
Dans sa pi?ce magistrale La Trahison, le dramaturge Laurier Gareau nous pr?sente un entretien passion? et passionnant entre Gabriel Dumont et le cur? de sa paroisse, le p?re Moulin. Nous sommes en 1905 et le vieux M?tis cherche la permission d'?tre enterr? avec les siens dans le cimeti?re de Batoche.
Sa qu?te est un puissant plaidoyer o? le p?re Moulin est appel? ? faire son propre examen de conscience sur le r?le de l'?glise catholique dans la r?bellion de 1885. L'?change de points de vue entre les deux hommes met en doute les causes pr?tendues de la d?faite des M?tis contre le gouvernement canadien.
La Trahison est pr?sent?e avec The Betrayal, une adaptation de la m?me pi?ce pour le public anglophone, et un essai de Maurice Morin, Les Oubli?s de l'histoire francophone. Ces tois textes mettent en question certaines interpr?tations de l'histoire tout en invitant le lecteur ? d?couvrir un drame humain.
By (author):Laurier Gareau
ISBN:9782921385404
Publisher:Les Editions de la nouvelle plume
Date:2006